Soak in Winter – By Vince Hempsall – Kootenay Mountain Culture Magazine
Skiing, snowshoeing, hot springs and a chill BC Kootenays alpine vibe – Soak in winter at Arrow Lakes to get into all the winter adventure you're craving.
"I lost my headlamp when I biffed it off that lip into the rhubarb," says the snowboarder. It's not a line I've ever heard at a ski hill before but the Summit Lake Ski and Snowboard Area near Nakusp, British Columbia, isn't your typical downhill destination.
For one thing, its seven runs, serviced by one T-bar, have been around for 61 years and it's such a community fixture that volunteers help run it and local taxes subsidize it. Secondly, it offers one run of night skiing on Fridays, but locals regularly brave the other pitches, with such apt names as "Widow Maker" and "Suicide," using only headlamps to light their way. Unless, of course, they lose said lamp falling off a jump and into the powder-strewn trees.
The snowboarder's name is Brandon and he moved to Nakusp from Calgary four months ago because he fell in love with the area's fishing. He's now biding his time until anglers turn their attention from augering through ice for trout in nearby Box and Summit lakes to go after walleye, kokanee, and other species in the Arrow Lakes and Columbia River.
The entire Slocan Valley and Arrow Lakes region in south-central British Columbia has seen an uptick in immigration from the Lower Mainland and Alberta in the past few years and one of the reasons for the influx is the plethora of activities available. Winter is no exception.
On my drive north up the valley this morning I passed 111 kilometers of trail systems that offer snowshoeing, nordic skiing and fat biking. Canadian Mountain Holidays bases its Kootenay heli skiing operations, which accesses 1,400 square kilometers of terrain, out of The Lodge in Nakusp.
And there are two commercial hot springs just north of the village, Halcyon and Nakusp.Enjoy a soak at Nakusp Hot Springs after some winter activities.
The morning after night skiing we found ourselves lounging at the Nakusp Hot Springs with the Garlinge family from Rossland. Kate, Ed and their two boys Cullen and Stuart came here for the weekend to enjoy the grassroots ski scene at Summit and then soak in the springs, which, like the local ski hill, are also community owned.
The current complex was opened in 1974 and offers two pools which are refreshed by 200,000 liters of hot, natural mineral water every day. There are also four A-frame chalets on site, where the Garlinges stayed, and they gave me a tour of one. I have to admit the accommodations are so rustic, with their wood paneling, wall-strewn logging antiques and hand-painted murals, they're actually cool.
The Garlinges were also in town to take advantage of the snowshoe scene. They rented gear at Shon's Bike and Ski, a funky store and café located in the Arrow Lakes region, in what was the village's opera house a century ago. That's also where I had my snowshoes fixed by Brent Wanstall.
Born and raised in Nakusp, Wanstall now has a family of his own with two young kids. He's enjoyed seeing the arrival of new residents in recent years.
"There are so many young families now and it's energizing the entire scene here."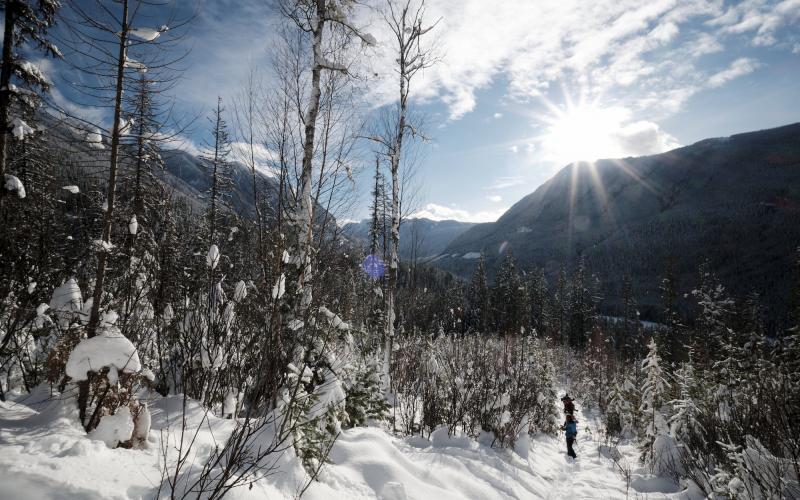 That scene includes plenty of snowmobile and snow bike enthusiasts as well as those who prefer quieter pursuits, such as the members of the Arrow Lakes Cross Country Ski Club who maintain the Wensley Creek Ski Trails just east of Nakusp.
In fact, nordic skiing and snowshoeing are some of the most popular pastimes in the area, which isn't surprising considering the epic mountain views. At any given moment you could be gliding or floating on top of the snow and enjoying views of the Selkirk Mountains to the east, the Valhallas to the south or the Monashees to the west.
Or you could be shushing the slopes at Summit, trying to help a snowboarder find his lost headlamp.
WHEN YOU GO
For more info on winter activities in the region – from snowmobiling, to cross-country skiing, downhill skiing and snowboarding, hot springs and more – visit our partners at Arrow Slocan Tourism to help plan your visit.
SKIING
Summit Lake Ski And Snowboard Area is open Wednesday to Sunday 10am to 3:30pm and on Friday night from 6 to 9pm. Passes are $46/day or $20/night ski.
SNOWSHOEING
Popular snowshoe trails include the Jack Rabbit and Arrow Park trails in the Nakusp Community Forest, as well as Vicky's View to the Kuskanux Mountain Trail that has a trailhead on the road to the Nakusp Hot Springs.
ACCOMMODATIONS
Accommodations in the area range from AirBnBs and motels to hot spring chalets and the popular "Adventure Domes" in New Denver. For more info about where to rest your head, visit arrowslocan.com.Night skiing at Summit Lakes Ski and Snowboard Area.